SwimSwam Partner Content (swimswam.com)
Safety and open water swimming go hand-in-hand. Swimming in the open water requires careful safety measures to ensure both peace of mind and drowning prevention. Wearing a swim safety device no more implies that you are a weak swimmer, than does wearing a bike helmet imply you're a weak cyclist, or even wearing a seat belt mean that you're a bad driver. Bottom line, it's about using common sense and taking simple preventive measures that could save your life.
The Swim IT is an open-water swim safety device that conveniently attaches to a swimmer's leg and with one pull on the tab, instantly deploys and inflates a tethered lifejacket. The Swim IT offers peace of mind and has helped save lives. The Swim IT has been approved by USA Triathlon, Ironman, Challenge, Federación de Triatlón, and other regional and local race organizations.
Through Labor Day, you can save 30% on The Swim It with the code LABORDAY
Developed by elite endurance athletes themselves, the creators of The Swim IT, Rick Senn and Amanda McIntosh, realized that regardless of experience level or swimming abilities, too many open water swimmers were losing their lives.
Every year, swimmers suffer fatalities due to cramps, fatigue, changes in weather, medical conditions, SIPE, cardiac events, allergic reactions to stings, arrhythmia, entanglement, panic, or attempting to assist a distressed swimmer without flotation. Furthermore, statistics indicate that there is at least one fatal swim every weekend from Memorial Day to Labor Day, in USAT sanctioned races in the USA.
"As a commercial airline pilot, I was inspired to create The Swim IT by the safety flotation devices stored under airline seats, that inflate instantly with one pull," said Senn, The Swim IT Co-Founder. "I knew there had to be additional ways to leverage this technology. Before I became a commercial pilot, I was an Air Force pilot, and while I was confident in my aircraft and navigation skills, I still carried a parachute in the event that if every other option failed, I still had an out. In the open water and even in the pool, The Swim IT is that "out" when all other options fail."

"I enjoyed swimming and before launching The Swim IT, I knew that my family was counting on me to return safely from open water swims," continues Senn. "The open water lacks a safety net and I was determined to add a backup plan to help me and my family feel safe in the open water. I wanted a swim safety device that could attach to a swimmer without being cumbersome or impeding movement."
The Swim IT is not about ability or fear, but rather about offering swimmers a race legal emergency flotation device for survival and peace of mind when self-rescue is necessary.
Using a CO2 cartridge, The Swim IT inflates once the "Pull to Inflate" tab is activated, and exits the pouch. The inflated life jacket is tethered with a 5-foot cord to the leg, which prevents it from being separated from the swimmer. Additionally, The Swim IT, designed for open water swimming and triathlons, will not increase drag when worn properly on the back of the leg.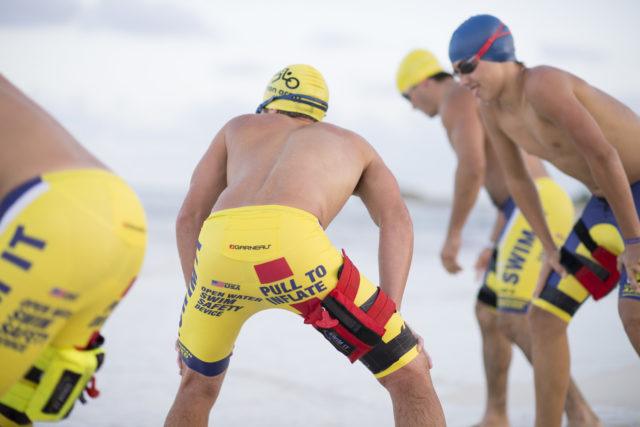 Courtesy of The Swim IT, a SwimSwam partner. 
https://swimswam.com/the-swim-it-swim-safer-save-30-on-our-biggest-sale-of-the-year/